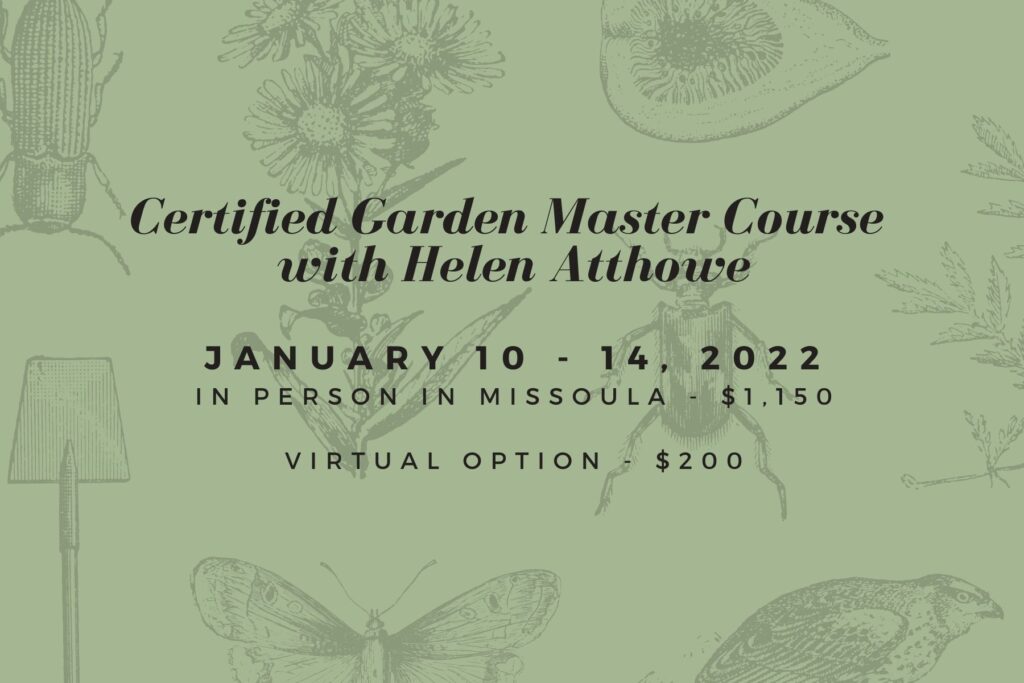 About the course:
Most Master Garden courses offered by state universities include large sections about pesticide use and safety and non-organic approaches to gardening. Not so with this course!
With the Certified Garden Master course, you will learn organic, veganic, no-till, and permaculture gardening knowledge and skills. This course will focus on soil and habitat-building for beneficial organisms and systems thinking for gardeners and farmers: how to manage relationships rather than just crops.
Our goal is to understand ecological functions and interactions within plant, soil, microorganism, and insect communities. You will learn how to identify and manage all the relationships that make up a healthy farm-garden-ecosystem--one that does not require pesticides or large off-farm fertilizer inputs. Hosted by Wheaton Labs.
About Helen:
Not only has Helen Atthowe taught Master Gardener courses for 17 years, she also wrote the manual for her course in Western Montana. Helen studied with Fukuoka and has been learning how to pay attention to the land and apply his farming principles to her commercial organic farms for 35 years, while also adding and developing ecological farming principles of her own. She has grown everything from permaculture food forests to managing a 2,000-acre organic commodity farm.
She has an undergraduate degree in Agro-Ecology, an MS in Horticulture, and research towards a PhD in Entomology on how reduced-tillage affects beneficial organism populations and crop biological control.
Helen is currently writing her own, comprehensive Garden Master book. You can preview the introduction here!
Schedule
Day 0: Check-In (Sunday, January 9)
Check-In: 9:00am - 7:00pm MST
Get Settled In: Find your bunk or other accommodation and get the lay of the land
Complimentary dinner is served at 6pm.
Evening Session: 7:15 – 8:30 Introduction: Growing Your Diet: the Agroecosystem concept at Woodleaf Farm. Virtual Tour of Helen Atthowe's Oregon Farm.
Sleep: Try to get plenty of rest. We start early and you have a full day jam-packed with information tomorrow.
Day 1: Introduction and Overview: Ecological Interactions & how everything is connected. (Monday, January 10)
Session 1: Designing an Agroecosystem or Garden-Ecosystem within Your Environment. Introducing Helen's Ten Ecological Principles for Managing Ecological Relationships Rather Than Crops. Systems Thinking for Farmers & Gardeners. How Soil & Habitat Building is Connected.
Session 2: Agroecosystem Details:
Light – cropping diversity and canopy structure.
Geology, climate, slope, aspect, soil type, and drainage.
Temperature - plant response to temperature, modifying the microclimate.
Water - humidity, rainfall, soil moisture content, & irrigation.
Session 3: Choosing Crops: species and variety selection for year-round food production and/or markets.
Evening Session: Paul's overview of on-site permaculture technology.
Day 2: At the Root of a Healthy Plant Community: Soil, Soil Fertility, Nutrient Cycling, & the Soil Organic Matter System (Tuesday, January 11)
Session 1: Soil Basics, Ecology, and Microbial interactions. Life in the Soil (video).
How To Read A Soil Test And What It Tells Us.
How to Optimize Organic Matter Decomposition & Nutrient Cycling.
Session 2: When to Till and When not to.
Session 3: Soil Organic Matter System Walk-About and Questions (bring warm clothes & boots)
Session 4: Cover crops, living mulches, & compost. Grow your own fertilizer. Timing of application and the difference between surface-applied, and incorporated fertilizers.
Session 5: Plant Nutrient Deficiencies ID. Fertigation "Intervention", Foliar Feeding, and Compost Teas. Mineral Balancing.
Evening Session: Soil Organic Matter System Management Practical Details from Woodleaf and Biodesign Farms.
Day 3: Shifting The Balance to Your Annual and Perennial Crops: Strengthen the "immune system" of your agroecosystem. (Wednesday, January 12)
Session 1: Working with Insects in the farm/garden System & Creating Habitat.
Common Insect Pests and Their Natural Enemies.
Insect Predator & Parasite Enhancement Design. Best plants for beneficial insect enhancement.
Intervention when insects impact crops.
Session 2: Creating Habitat Walk-About and Questions (bring warm clothes & boots).
Session 3: Working with Diseases in the farm/garden System.
Identifying the good guys and managing the bad guys.
Plant disease ecology and management.
Intervention when diseases impact crops. Rotations, microbial biological control, and plant
systemic acquired resistance.
Evening Session: Practical Examples of Balancing Nutrient Cycling, Habitat Creation,  & Disease Suppression from Woodleaf, Biodesign, and Other Farms.
Day 4: Working With Plant Competition in the Farm/Garden System. (Thursday, January 13)
Session 1: What is a weed & how much competition can your specific crop(s) handle? Benefits of weeds & how to design weeds into your system. Enhancing the competitive ability of crops to resist weeds (crop planting timing & microclimate modification). Weed ID and which weeds to encourage and which to manage.
Session 2: Tillage affects weed species dominance and ecology: when to till to manage specific weeds. Cover crops, living mulches, and weed suppression. Intervention when weeds impact crops.
Session 3: Plant Competition Walk-About and Questions (bring warm clothes & boots).
Session 4: Plant Propagation & Seed Saving.
Evening Session: Pest-Resistant Fruit & Vegetable Varieties. Research Results.
Day 5: Growing a Diet Details. (Friday, January 14)
Session 1: Vegetable Crop Details, Troubleshooting, And Intervention. Season Extension. Designing Crop Rotations for Long-Term Pest Prevention.
Session 2: Fruit Crop Details, Troubleshooting, And Intervention. Mineral Mix Bloom Sprays for Tree Fruit Set & Disease Prevention. Spacing & Pruning. Designing Crop Rotations for Long-Term Pest Prevention. Frost Control.
Session 3: Round-Table Discussions of Students' Garden & Farm Issues, Ideas, and Questions.
Follow MOA