Free Course March 1 & 3, 2022
Thanks to a $500,000 grant from the United States Department of Agriculture's (USDA) Farm and Ranch Stress Assistance Network (FRSAN), a program authorized through the Farm Bill, the Montana Department of Agriculture is able to connect individuals engaged in farming, ranching, and other agriculture-related occupations to stress assistance programs.  MOA was awarded one of the MDA's direct grants and will provide Mental Health First Aid virtual course led by a trained facilitator from the University of Montana.
The two four hour virtual sessions are March 1, 2022 and March 3, 2022 beginning at 8 am each day. Two hours of self-paced pre-work are required prior to the start of the course. Participants will receive a certificate of completion if all course requirements are met.
Mental Health First Aid is a skills-based training course that teaches participants about mental health and substance-use issues. It teaches you how to help someone who is developing a mental health problem or experiencing a mental health crisis. The training helps you identify, understand, and respond to signs of addictions and mental stresses and illnesses.
Based on the concept of CPR, the Mental Health First Aid course teaches you the following.
Risk factors and warning signs of mental health problems.
Information on depression, anxiety, trauma, psychosis, and addiction disorders.
A 5-step action plan to help someone developing a mental health problem or in crisis.
Where to turn for help — professional, peer, and self-help resources.
REGISTRATION REQUIRED - Limited to 20 participants
Registration is limited to 20 participants. Priority registration closes at 11:55pm on Monday, February 7th on a first-come first-serve basis. Rolling registration/waitlist closes on Monday, February 20th at 11:55pm.
Questions? Please contact:
Lauren Kelso, MSW
University of Montana   |   Phyllis J. Washington College of Education & Human Sciences, Room 210A   |   Missoula, Montana 59812   |   t: (406) 243-5315 (office)   |   e: lauren.kelso@umontana.edu   |   w: https://www.nnctc.org/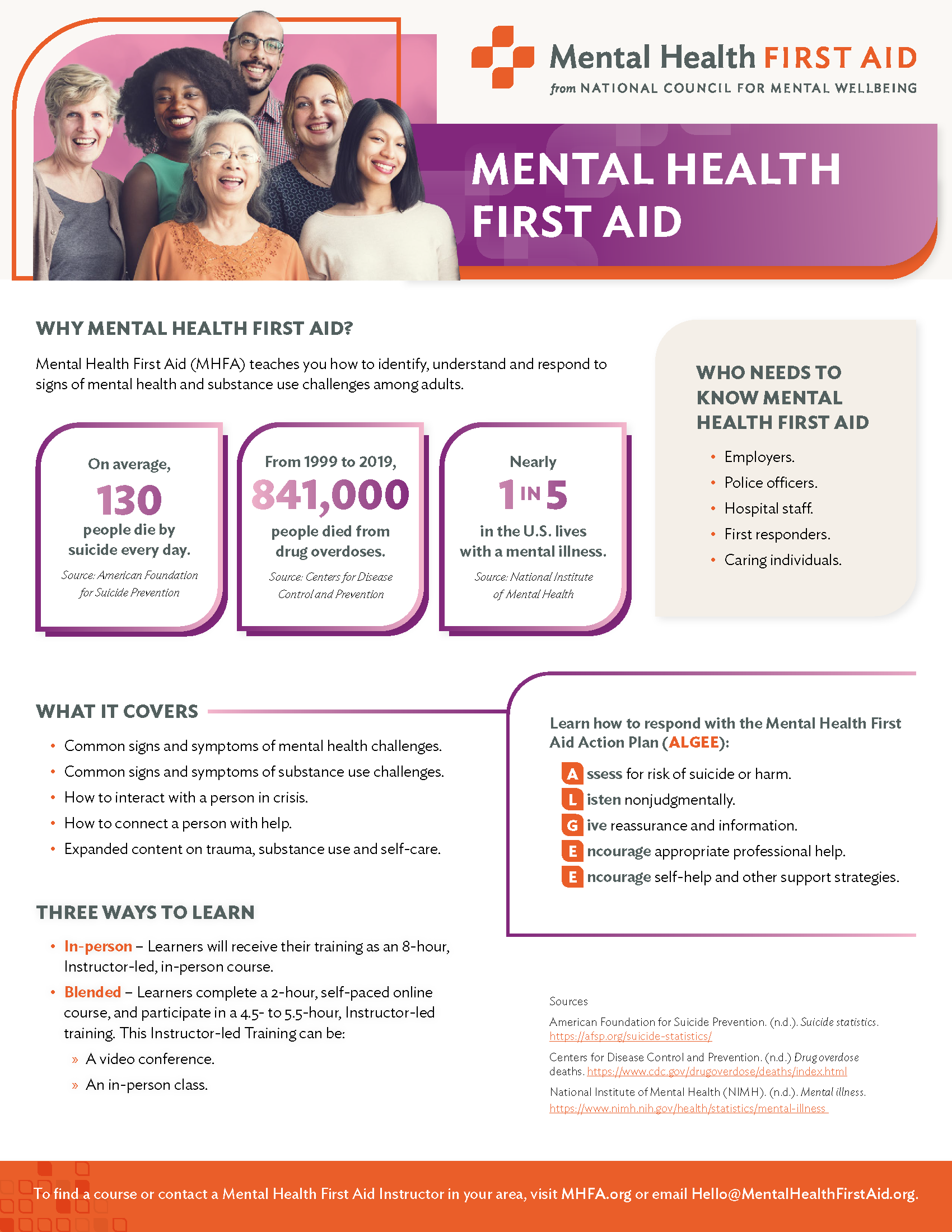 Follow MOA