WHAT: Webinar series on Regenerative Grazing practices - includes how to graze covers and row crops
WHEN: Each Thursday morning in February
Feb 11, 9-10:30am CT | Session 1 "The WHY: What is Regenerative Grazing?"

Feb 18, 9-10:30am CT | Session 2 "The HOW: The nuts and bolts of regenerative grazing on the farm."

Feb 25, 9-10am CT | Session 3 "Ask Me Anything - A Q&A with the presenters"
HOW MUCH: $30
Then join us for an interactive online series that will provide you with a broad understanding of the ins and outs of regenerative grazing. In this 3-part online series, you will learn from Kent Solberg of the Minnesota Sustainable Farming Association and local Illinois graziers, Jill Vonder Haar and Jim Isermann, as they provide their own experiences with regenerative grazing and explain the science to back it up. Learn more and register here!

CEU credits available for Certified Crop Advisors.
This series is organized by the Pasture Project, University of Illinois Extension, The Land Connection, and Champaign County SWCD.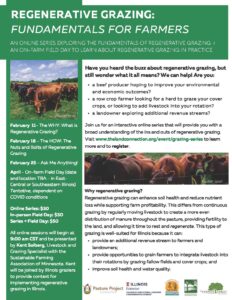 Follow MOA