MOA 2020 Virtual Conference Sessions
Thank you 2020 MOA Conference Sponsors
This schedule continues to be updated. Each entry links to the session discription.
Fred Provenza, Professor Emeritus, Utah State University
Fred Provenza, originally from Colorado, earned a B.S. Degree in Wildlife Biology from Colorado State University. He worked on a ranch in Colorado for several years then pursued a PhD in Range Science at Utah State University, where he taught as faculty member in the Department of Range Science from 1982 to 2009. He currently is Professor Emeritus in the Department of Wildland Resources at Utah State University.
For the past 30 years, his group has produced ground-breaking research that laid the foundations for what is now known as behavior-based management of landscapes. That work inspired researchers in disciplines as diverse as chemical ecology, ruminant nutrition, human nutrition and biopsychology, animal welfare, landscape restoration ecology, wildlife damage management, pasture and rangeland science and management, and rural sociology and eco-development.
3:00 – 4:30 pm Montana Food Providers Project Update, Robin Kelson and Jamie Lockman
Saturday, December 5
The MOA Policy Subcommittee reminds MOA members vote for 2020 Policy Proposals and Board Members.
Panel led by Anna Jones-Crabtree, Vilicus Farms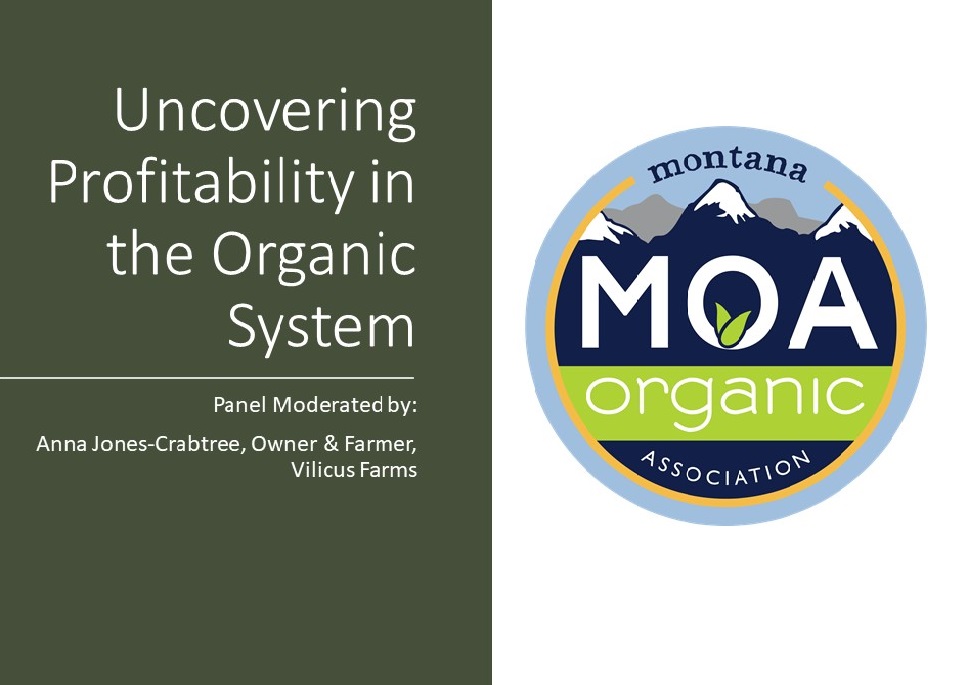 What does risk, return and reward look like in an organic food system? Profitability has often been singled out as the only indicator of success. But we know that building soil organic matter does not happen on a quarterly profit reporting cycle. How can we work together to create a system that has long term farm viability at its heart. Food systems depend on farms. This panel will explore a variety of approaches to sharing risk and reward to enabling an organic food system.

Mike Callicrate – Operator/Owner at Ranch Foods Direct, Operator/Owner at Callicrate Banders and Operator/Owner at Callicrate Cattle Co
The US food system does not work for ranchers, small businesses, and consumers. Mike Callicrate offers his prescription for creating a new system. Be prepared to break assumptions, rethink models, and be inspired.
Pat Carr, Tim Seipel, David Sands, Chelsey Roper, Jed Eberly, Sam Schmidt, and others 
Updates on MSU Research including,  "CREEP STOP: Progress Report on Our Project to Develop Strategies for Suppression of Creeping Perennial Weeds;" "Bioherbicides:  How to get them to work effectively against Canada Thistle and Bindweed, in Montana.;" "Canada Thistle Biocontrol in Organic Cropping Systems."
Randi Lynn Tanglen, Ph.D. , Executive Director, Humanities Montana
Many Montana families have a well-worn collection of church and community cookbook passed down by grandmothers, aunts, and female friends and family. While these books contain nostalgic time-tested recipes and family traditions, they also have much to tell us-as historical and literary documents- about the lives and stories of the women who created them. In this presentation, Dr. Randi Tanglen discusses her research on women's community cookbooks in eastern Montana and the unexpected role of cookbooks in promoting women's influence and leadership. Audience members are invited to bring their own community cookbook(s) to share and discuss.
November
November 30 – December 2 – Organic University
See separate schedule: Organic University Schedule
December
Friday, December 4
9:00 am -10:30:
Rick Caquelin, Area Range Specialist, NRCS
The ultimate organic agriculture is grazing livestock. All of the things we will discuss revolve around management techniques to improve the ecological processes of grazing land without outside inputs; improving land, providing a wholesome, safe meat product and doing it profitably, so the operation is sustainable.