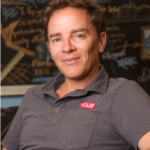 Matthew Dillon, Senior Director of Agricultural Policy at Clif Bar
MOA is pleased to announce Matthew Dillon, Senior Director of Agriculture at Clif Bar as the 2019 Conference Keynote Speaker.
Call for conference presentations
MOA has a history of providing top-notch presentations as well as engaging panel discussions presented by leaders in organic agriculture, marketing, health, and food. Consider submitting a proposal for your professional-level presentation or panel discussion.
This year MOA has automated proposal submissions; please complete presentation and panel proposal form available below.
17th Annual MOA Conference Call for Proposals
Presentations and panels are typically 35- 45 minutes with 5 – 10 minutes for questions. Panelists are responsible for recruiting and managing panelists. Complete proposals will receive priority. Visit our Conference Archive to view previous year's programs. For more information contact Jamie Lockman at jamieryanlockman@gmail.com or (406) 546-6572.
Follow MOA